Beard Transplant
A beard transplant or beard surgery is becoming very popular in today's society. A simple process whereby hair is taken from a donor site (normally the back of the head) and replaced on to the beard. This will of course depend on a number of factors such as thickness and quality of the donor site. Also on your suitability. Furthermore age must be considered as some males will take longer to achieve their optimum beard coverage. Whether you are looking for that full beard look, or are just looking to customise you appearance, we can help.
Pricing – £3500-£5500
Suitability – first of all there are some situations where any form of beard transplant would not be possible. Due to a case of alopecia areata/barbae. Also limited donor site means beard surgery may not be possible. Albeit hair is taken from other hair bearing regions with some patients.
FUE
FUE also known as follicular unit extraction – We extract follicular units individually from the donor site and place them into the required location using a small incision. The extracted units are shaped to allow them to fit within the small incision. This will limit trauma to connective tissue and promotes blood supply. 
FUT – also known as follicular unit transplantation. We take a strip of hair bearing skin from the donor site. The Follicular units are then cut and shaped to allow them to be fitted into a small incision. This is still a common method for beard surgery. Like FUE relocating into a small incision would promote effective blood supply and limit trauma.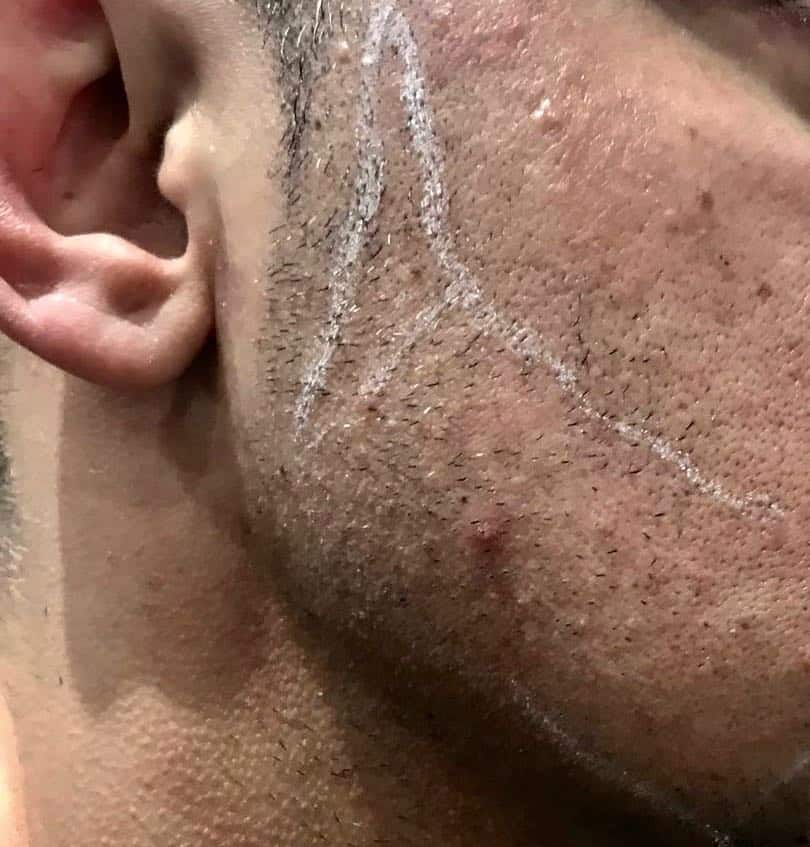 The image to the left shows the beard before the transplant. The image to the right shows after the procedure.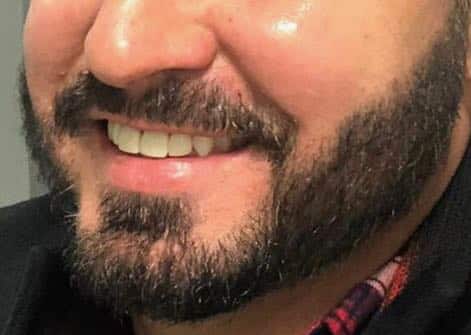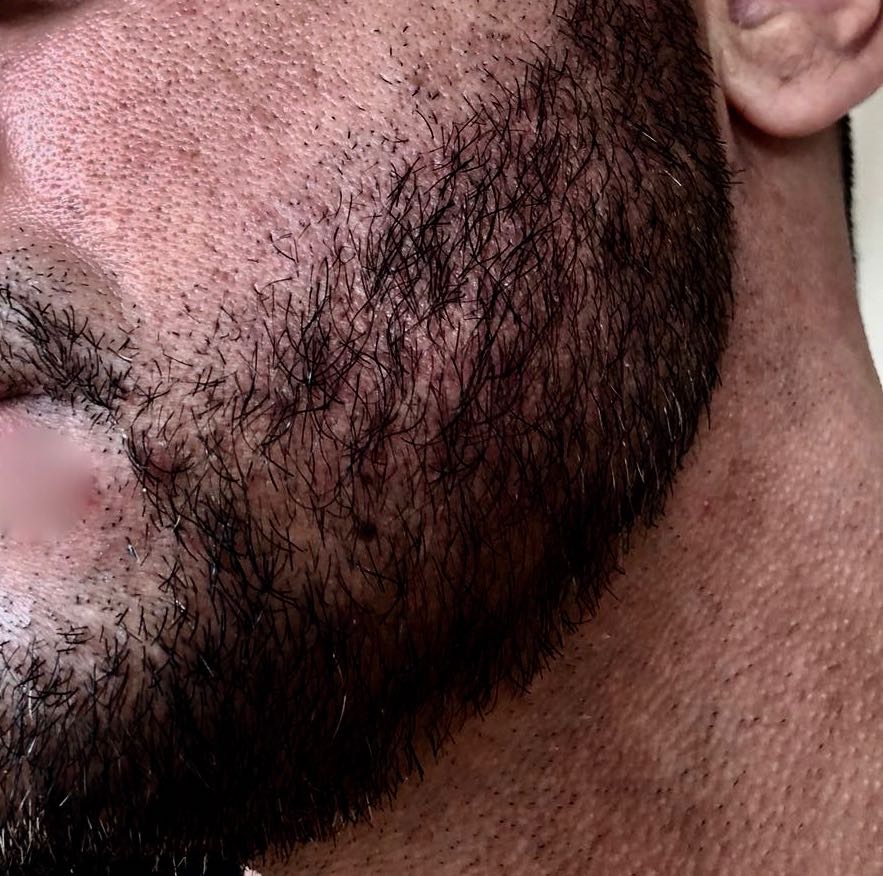 Advice
When ever considering any form of beard surgery you should take time to research and decide if it is what you really want. You should also take what you read on the web as a starting point but don't be drawn in my flash and expensive sites. Arrange to visit the clinic and see where you feel most comfortable. Ask to speak with a qualified medical professional when arranging a consultation. You need to know you are getting medical advice and not that of a sales persons.
At the Holborn Clinic we pride ourselves on giving an excellent service from the moment you walk in. Care is taken to establish suitability for beard surgery and ensure we can offer what you desire. Furthermore to limit the cost for a first class service with excellent results. You will be seen primarily by a trichologist to confirm you suitability. After which we will arrange for you to meet and speak with the surgeon who will be conducting the beard transplant.
Thank you for taking the time to read our site and we hope that you will consider us when choosing. Thank you.
Please make sure that whoever you choose that they are registered with the Care Quality Commission CQC 
Questions that we have been asked
Question
I am 20 and want a full beard so would you be able to help me?
Answer
First of all this very much depends on whether you have achieved your maximum coverage. Go and visit a beard transplant clinic and speak to someone. Make sure you visit at least 3 clinics. I hope that you will visit us.
Question
I have had a scar on my face which stop hair growing. Probably not gonna happen but I would like to cover this up. Is that possible?
Answer
This certainly might be possible. Also this will depend on the size and the reasoning behind the scarring. Furthermore, perhaps you would like to send me some pictures? Drop me a line and we can see if this is possible for you.
Question
Does the beard grow straight away? Almost all of my friends beard transplant fell out?
Answer
First of all, some cases the beard surgery will result in growth from the start. Likewise in most cases the hair will fall which is quite the normal thing. The hair then grows in time. Taking in some cases up to 12 months to grow hence your friends beard transplant shedding seems normal.
Question
Due to a recent illness and skin complaint I lost a lot of my beard hair. It seems like there is no hope for me. While I am a realistic guy I would like to see if it is possible?
Answer
First of all I would need to know the reason why you have lost hair. It might grow back in time. Likewise the skin may be affected by Alopecia Areata which in most cases would prevent you from having any form of hair surgery. You are probably best advised to see a trichologist who will be able to tell you if you are suitable. You can of course come and see us.
Question
As a result of a previous beard transplant I've noticed that one side grows differently that the other. Furthermore I don't like the angle the hairs are growing from the skin. 
Answer
Go back to where you had the beard surgery and speak to the surgeon. Im sure they will assist you. Also how long ago was the beard surgery undertaken? Finally if you don't get a good response and if you feel appropriate you can speak with the CQC who can offer advice on how to make an official complaint.