Women's hair transplants is fast becoming the trend in todays society to combat womens hair loss. Whether you are suffering from Traction Hair Loss or Female Pattern Baldness we can help. If you want your hair line back or want to fill in those areas that have shed then give us a call and find out how we can help you. Most noteworthy all types of hair can be transplanted including Afro Hair and asian hair. Before considering any form of hair transplant you must know why you are experience womens hair loss. It is easy to assume that you have perhaps Female Pattern Baldness or Traction loss. There are many forms of hair loss that can grow back with help such as Telogen Effluvium, Alopecia Areata, , Hair loss Associated with B12, Chronic hair loss due to Iron Deficiency along with many others. Maybe you have a scarring alopecia? These are commonly misdiagnosed.
There are many scalp conditions that may contribute to hair loss including Psoriasis (depending on type) Pityriasis, Scalp Eczema, Allergic Contact Reaction along with others. Hair and  Scalp Treatment can be offered in cases such as these
Finally, the Consultation is free. Furthermore you can arrange a visit right now. Most noteworthy we are located a stones throw from Harley Street without the Harley Street prices. Therefore we hope that you will consider us.
Considered the most advanced method of women's hair transplants. A highly technical procedure where hair is removed from the donor site with specialist instruments (less that 1mm). Hair is then transplanted. Once transferred the hair will grow quite normally. Hairs may be implanted in groups of 1-4 hairs depending on the thickness required and donor site amount. This method had the fastest recover time. Surgical procedure does not require overnight stays. Patients will be given a local anaesthetic and will be fully awake throughout the procedure. For women's hair surgery this is really the best method. Hair will be taken from a vast area instead of the localised FUT method.
A strip of skin is taken from the back of the head. Donor Size and amount of hairs will vary. The skin will contain the hair awaiting transplantation. Trained technicians will dissect the hair ready for the surgeon to implant in the area required. The wound will be sown but a linear scar will remain. It is fair to say this would not be visible as the gap would be closed and surrounding hair would amply cover this up.
Most Women prefer this method. There is no need to shave the head at the donor site. The results are the same. Recovery time for the scare to heal is around 5 weeks. However, you will be able to go back to work within a few days. We recommend taking  a week off to relax.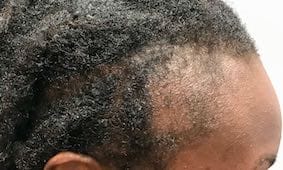 Firstly, This is an afroid case recently undertaken. While the image to the left is before the hair transplant the image to the right is after. It was taken once the hair were implanted. I wanted to show you how the hair looks post operation.
Before and after images can be seen on the before and after page.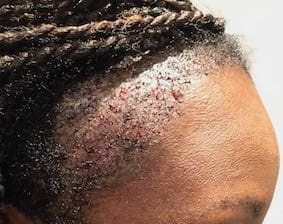 Free Consultation for Women's Hair Transplants
Book a consultation by filling in the short form above or at the bottom of the page and we will get back to you shortly. Consultations take around 30 minutes. We advise that you bring a friend or relative along if you wish who may have questions too.
At consultation we will discuss your suitability, examine the hair and scalp (by a trichologist) to make sure there are no other possible ways to re grow your hair. We will fully explain the procedure and answer any questions the you have. In some cases Women' Hair Loss can be resolved without surgery.
If you are a suitable candidate then we will discuss how may grafts you require and will give you a price. Please note that we do not charge per graft but for the complete procedure. This is to ensure the patient gets what they want and that there are no charges bought on at the last minute if we need more grafts.
Main Causes of Hair Loss – Women's Hair Transplants
Maybe you are suffering from traction loss. Possibly a result of hairdressing procedures or incorrect hair styling. What ever the cause, sadly the hair loss is permanent. Suitability for women's hair surgery depends on severity. Remember, there must be sufficient unaffected hair to transfer to the affected site. Traction hair loss is solely due to the epilation of hair and nothing to do with nutrition or hormonal imbalances.
Traction Loss is very common amongst black women. You will know as an Afro Caribbean Women that hair styles are tight and unforgiving. Afro Hair Surgery is a real option for you. Furthermore, it is possible to have the hair back that you have lost. Afro hair Loss in some cases can be grown back. But if its Traction then the answer is it can't!
Women's hair transplants is the only true way of giving back hair to a female who is suffering from Female Pattern baldness. Most noteworthy, there are restrictions. Severity is of course a consideration along with how much donor hair there is. It is of the upmost importance to have this condition correctly diagnosed. I have seen hundreds of female patients who have been told they have FPB when in fact they have a chronic hair loss condition that is nothing to do with androgens. Women's hair surgery in this case would not be suitable. We are highly trained Trichologist who know how to diagnose correctly.
Maybe you would like to arrange a free consultation to discuss your options and if you are suitable?
Plastic surgery patients
Scars can be so difficult to cover. Maybe you are looking for help? Hair may be transferred to hide scar tissue. Women's hair transplants is an option because hair can be placed in order to cover the scar tissue. Hence this is a good option for you.
Burns and Scars
Women's hair transplants can be used in cases of burns. In contrast this is dependant on the type of the skin damage and donor hair available. Consequently it is advised to seek professional advice on this option.
Alopecia Areata
Please note that it unlikely that any surgery can be completed on a patient with Alopecia Areata. Some say that if you haven't suffered from the condition for 12 months then this is ok. Well in my view it's not. If you would like to speak with us please feel free to give us a ring and we can askew any questions that you have.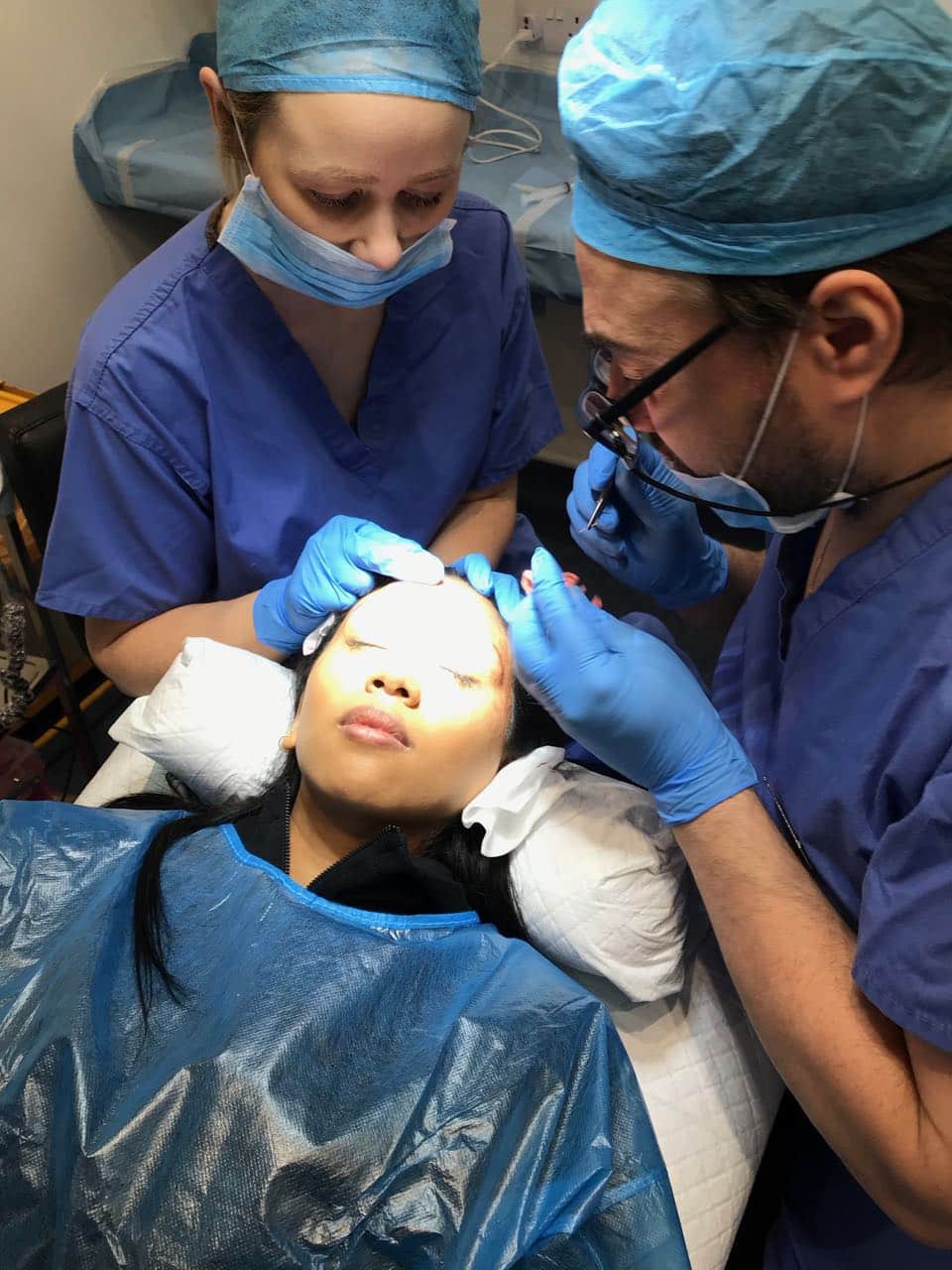 Are you suitable for a Women's hair transplant?
That's easy. Arrange a free consultation with one of our Trichologists. We will firstly, diagnose the hair loss condition after which decide if surgery is suitable. We have seen thousands of women with hair loss over the years. Many have been suitable candidates for women's hair surgery.
Please be mindful that most hair restoration surgeons are not trained Trichologists which means they are experts in the transplant surgery and not experts at diagnosing hair loss. There are also many women's hair surgery clinics run by untrained sales men or women. They of course would have a good knowledge of the surgical procedures but not at establishing a diagnosis and confirming suitability. I have seen many women who should never have had surgery. Who ever you choose to see just ask for the credentials of the person you are speaking to.
If you are considering women's hair transplant then we hope that you will come and see us. It is a free consultation during which we will confirm your suitability.
Price – this of course will vary from patient to patient. However, a typical cost will be £2500-£5500. Registered with the Trichological Society
Eyebrow Transplants
Eyebrow transplants are simply the best way to get back those eyebrows that you lost. Maybe you over plucked them or maybe you had one too many threading procedures? Are you currently tattooing them on? Well we have the answer. Eyebrow Surgery can be conducted on any skin type including Afro Caribbean and Asian. Maybe you would like to find out more? Let us know and we will be pleased to help you.