0207 404 0072
Call us to speak to a specialist 
Face to Face, Skype or Face time Consultations available.
Maybe you are seeking advice for a hair loss, Scalp condition or a hair transplant? A face to face consultation is the best way to get the answers that you are looking for. Just give us a ring or email us on the contact form and we will be happy to assist.
A face time consultation with patients can offer support and advice/treatment for people suffering from all types of skin and hair loss diseases. We are also conducting consultations for hair, beard and eyebrow transplants to. We look forward to speaking with you soon.
Arranging a face time or Skype consultation.
Just complete the online form and let us know when is a good time for you. Please note consultations are charged at £150.00 and last for about an hour. We ask that taking some pictures of the issue and sending them on a picture message perhaps on whats app would assist in diagnosis.
The clinic mobile number is 07881648674
Chancery Lane Tube Station – The closest tube station is Chancery Lane. Exit the station (Exit 1) and you are at the start of Gray's Inn Road. Walk for about 5 minutes along Gray's Inn Road during which time you will pass a crossroads (Theobalds Road). We are located on the left side of the road (odd numbers on the left) opposite number 200.
From Kings Cross Train Station – If travelling from Kings Cross, you can either walk along Grays Inn Road or get on the 45 or 46 bus which takes you to Grays Inn Road. The 45 or 46 is located on the Kings Cross Concourse. Exit the bus at the Guilford Street stop. Walk for approx. 80 yards along Grays Inn Road in the direction of travel of the bus. We are located on the right hand side opposite number 200
From Farringdon Tube Station – Exit the tube and turn onto the Farringdon Road. Turn Left onto the Clerkenwell Road and then turn right onto Gray's Inn Road. We are located on the left side of the road opposite number 200.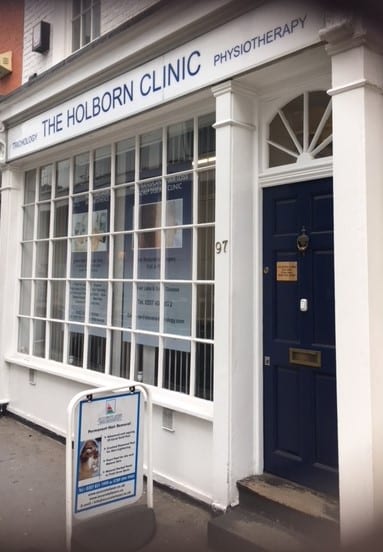 The Holborn Clinic
Welcome to the Holborn clinic. Press the bell on the front of the door to be guided into reception.  Please have our number in your phone in case of difficulty finding us.
Disabled access – Our premises is on the ground floor. Access is via the front door which has two small steps. We are able to offer assisted to wheelchair and other disabled persons with the use of a ramp. Please advise when you call to ensure we are able facilitate entry without delay.
Please note that our toilets are located on the lower ground floor. Due to the layout of the building we are unable to facilitate wheelchair access in the basement.
We offer a home visit service. This will depend on your location. Feel free to ask about this service. Thank you.
Consultation £150.00. Our consultations normally last for around an hour depending of the case. A full examination with an experienced Trichologist. 
Cost for treatments – £40.00 – £50.00
Treatment – if treatment is advisable we will fully explain what this entails. Please note that out treatment is totally pain free with no side effects.
Wet Treatment £50.00 This will take between 1 hour – 1 hour 30 mins depending on how long the hair is and the condition that we are dealing. Wet treatments tend to be for those requiring treatment for an scalp condition viz: itchy scalp, dry scalp, contact dermatitis etc.
Dry Treatment – £40.00 – these tend to be for those suffering from hair loss conditions. We would estimate that we need approx 40 minutes to complete the treatment.
Wet/Dry treatment combined £75.00. You would be with us for approx 2 hours covering both the wet and dry treatments. 
We do not pass your details to anyone else. This is strictly an email system direct to our clinic. I know what it is like to receive unwanted mail.
Registered with the Trichological Society