Hair Experts
First of all, I want you to fully understand how the field of hair specialists actually works. The next few paragraphs explain the basics. Please read and you will see why I am writing this. A hair doctor doesn't really exist. There are some General Practitioners out there that have an interest in hair science. Also some have qualifications in trichology.
Let me tell you that as a rule GP's don't have much experience in dealing with hair loss. There of course will be some exceptions to this rule. Furthermore, most will refer you to a dermatologist and not a trichologist. Why is that you may ask? Well, this is simple because your GP is fully aware that there are many so called trichologists who have taken an online course. There are some courses that you can attend over 1 day or maybe two. Ridiculous is the word don't you think? Sadly there is very little regulations when calling yourself a hair doctor.
Fake Hair Specialists.
Did you know that you can purchase a PHD on line and call yourself a hair doctor? Be warned there are many that call themselves hair doctors and have no real qualifications. Furthermore they are a risk to you!. Believe me, I have seen many horror stories in the many years Ive been in practice.
OK so what regulations are there?
Well there are two main regulatory body's that govern the field of hair science. The first being the Institute of Trichology )MIT). The second is the Trichological Society (TTS). Being the Deputy Registrar to the Trichological Society I am perhaps a little biased. Perhaps rightly so as I know there is a clear difference between the two qualifications. Consequently you will find that most Trichologists with the TTS have medical backgrounds. Perhaps already a GP or nurse. Maybe holding a medical qualification in another medical discipline. You will find that the MIT is geared towards hair dressers and like qualifications. Hence both MIT and TTS graduates will offer a good service. While I believe a TTS graduates knowledge is far greater hence you will get I my view a better service.
Maybe I have confused you? Furthermore who is the right "hair Doctor" to see if I am loosing my hair or I am suffering from a itchy scalp conditions? Firstly, you can see your GP. Likewise see a dermatologist? But are they going to help? Maybe you have seen one of these professionals? It seems like most patients that I see have done this route. In contrast some patients want to go straight to a hair loss or scalp specialist. I am a trichologist. Trained with the TTS or over 5 years. I have been teaching the subject for many years as well. A trichologist is an expert in hair loss and scalp disease. Furthermore, we know how to advise and if appropriate offer the right treatment.
If you would like to know more about my clinic and its hair doctors and trichologists them please feel free to contact the Trichological Society who will be more than happy to confirm who we are and our credentials. Further more we are a registered hair restoration clinic governed by the Care Quality Commission CQC. Finally We invite you to read further and you see all the different aspects of hair and skin that we may be able to assist you with. Thank you for reading my site.
Our team
Our team of trichologists has a combined level of experience of over 80 years. Consisting of Professor Barry Stevens FTTS, Mr Edward Stevens BSc FTTS FBIH and Miss Claire Stevens FTTS.
Finally, if you are suffering from any form of hair loss or scalp condition, please seek advise. Who ever you choose to visit do so as soon as you can. Many hair loss and scalp conditions can be dealt with quicker is dealt with immediately.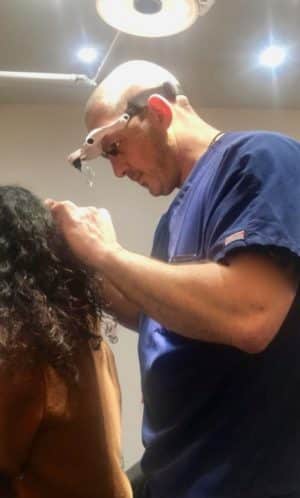 Hair Restoration Surgery
First of all, We have a number of GMC registered Hair surgeons who work for me at the Holborn Clinic. Furthermore, our surgeons are highly trained hair doctors, in the field of hair restoration surgery. Maybe you are thinking of having hair restoration surgery, why not take advantage of a free consultation. We will be able to give you step by step information on the procedure and most importantly whether you are suitable.
Most noteworthy all of our practitioners are qualified and registered with the Trichological Society (TTS). Furthermore, the TTS is a world wide governing body which regulates the practice of trichology and hair doctors. The qualification and ethics are governed by the Trichological Society the Worlds leading authority in the fields of Orthodox Hair-sciences & Hair-specialisms – Worldwide. Please feel free to review the Trichological society's website or contact them who would be happy to confirm our credentials.