Afro Scalp Free Advice Line
0207 404 0072
Consultant Trichologist advice & treatment for Afro scalp conditions. Why not give us a ring and have a free telephone consultation? Just give the advice line a ring.
Whether we tell you how to treat your condition at home or treat you at the clinic, we have the solution. We have successfully treated thousands of Afro scalp conditions since 1964. Our London Trichology Clinic is located in Holborn WC1X 8TX.
Tr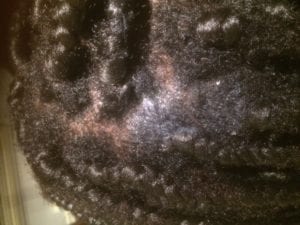 eatment – there are three options for you:
Advice only – We may well be able to tell you how to treat the condition without having to purchase anything or visit us. We can speak with you on the phone where we will access the severity. Altering your cleansing routine may be required. Potentially avoiding certain chemical applications and products may also be necessary.
Home care solutions – we have a range of home care solutions for Afro scalp problems. We would need to speak to you on the phone first to access the condition. At which point we can if appropriate advise on the correct home care treatment. Please note we only sell our products to patients that we have seen or spoken to to ensure you are not wasting your money.
Treatment at the Holborn Clinic –  In chronic or serious conditions we may need to treat the condition at the London Trichology Clinic. Our treatment is unique, gentle and very effective. The key is to remove the crusting that effectively blocks the skin causing an increased immune response. Removing the crusting is a specialist role and should not be attempted at home. You may well damage the skin and cause a secondary infection.
What should you do next? – you can give us a ring and speak with a trichologist on the phone who will advise you. Arrange a consultation if necessary.
Symptoms such as irritation, burning, flaky scalp, tenderness, embarrassment and discomfort. Arrange a free consultation by completing the contact page or ring the advice line.
How can we help you? – The Afro scalp which is itchy, dry and flaky  is very common. In fact most Afro scalps are naturally dry along with the hair. Our treatment methods involve gentle removal of crusting or flakes allowing us to calm the underlying skin. We have some simple cleansing techniques that will transform your cleaning routine.
Hygiene – Afro hair is often dry, which tends to encourage infrequent shampooing with the scalp sometimes suffering the consequences. The scalp plays host to a natural yeast bacillus (Pityrosporon Ovale) which if not controlled can multiply extensively resulting in an irritated, inflammed scalp which can lead to secondary infection. Successfully cleansing afro scalp & hair is not and easy process. Lack of correct cleansing may well be the cause. However, once the itchy scalp condition is apparent, simply washing the hair tends not to solve the problem. Correct cleansing of the afro scalp requires an excessive rinsing regime which often gets overlooked.
Rinsing – Afro scalp & hair must be rinsed very thoroughly (laboriously). In order to remove all traces of detergent a rinsing time of up to 10 minutes should be adopted for persons with an average hair compliment. This would increase with longer thicker density of afro hair. Where detergents are insufficiently rinsed away the afro scalp may suffer a contact reaction which can lead to a dry itchy scalp which may burn.
Symptoms may include: pruritis (irritation), erythema (inflammation) and the presence of scales (commonly known as 'dandruff'). There is no 'right' or 'wrong' answer to the question "How often should I shampoo?". You need to establish a routine that cleanses your scalp adequately.
Scalp Diseases – The following is a list of conditions that may present as scaly irritable scalp viz Eczema, Psoriasis, Pityriasis, Seborrhoiec Dermatitis & Allergic Irritant Scalp Reactions. If symptoms persist, professional advice should be sought.
Further information on the diseases above may be found on their specific page listed below.